Continuing our series of guest articles by CCLI, this week we look at copyright in relation to songs.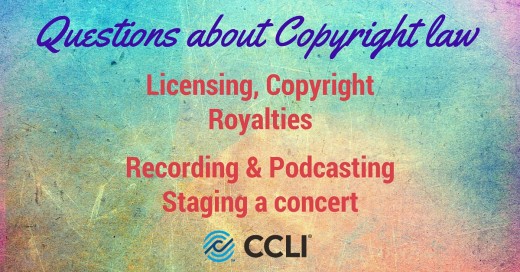 Copyright is an intellectual property right given to the creators of original musical, literary and dramatic works. Different countries have different laws in regard to copyright. In the U.S. the foundational copyright laws were established with the Copyright Act of 1976. In the U.K. the Copyright, Designs and Patents Act 1988 is the current legislation. These acts provide the creator with two main rights:
Economic: this allows the creator to charge anyone who wishes to copy, perform or record their work for any commercial or non-commercial use.
Moral: this allows the creator to protect their work from any change which might be considered offensive or not in keeping with their wishes.
Copyright in a song
In the U.S. and within Europe, copyright in a song lasts for 70 years after the end of the calendar year in which the last surviving writer dies. A song which is no longer protected by copyright is described as being Public Domain (PD).
Where words and music have been written separately, it's probable that copyright exists independently in the words and in the music. This means the words will become PD 70 years from the end of the calendar year in which the last surviving writer of the words dies, and the music will become PD 70 years from the end of the calendar year in which the last surviving music composer dies. CCLI's SongSearch website is a helpful tool in finding the copyright information for a particular song in CCLI's global catalogue and will help you to compare the copyright information for different versions of a song. Read More »