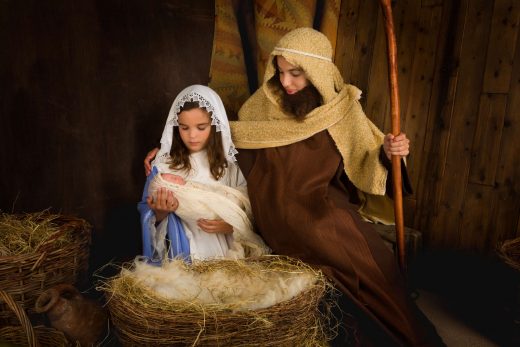 Pulling together an order of service that also includes a creative element to both refresh the usual content and appeal to visitors can be pretty daunting. We were discussing ideas for Christmas service planning in the Musicademy Worship Community (it's a Group on Facebook – you are welcome to join too) when one of our regular community members, Simon Timperley has shared with us how he had written a set of readings. We asked him to share these with our Musicademy folks (you can download them here) but below is Simon's story of how these came about (sub headings are Musicademy's).
Attempt #1: pub music opportunity is let down by the readings
A couple of years ago the church I was in and played bass in the worship band, a small local expression of a major "denomination" based in Anaheim, Californ – i – a, decided to "do Christmas in the pub" as an alternative to letting the piano player do traditional carols again.
I was approached with a view to choosing, arranging, and presenting a "set" of Christmas carols in a contemporary style that joined the two worlds of carols and our preferred worship style, and that would be suitable for an evening pub (bar) "audience". NOTE: I am a semi pro musician working in clubs and pubs. I suspect they asked me because of my dashing good looks…
I went through the carol sheets we used when we did "Late December shopping mall carols" at a previous church and chose 6 or 7 songs that had good theology, sang well, and would suit various contemporary music styles.
We rehearsed the band and got it all ready, but then on the evening of the "show" the leaders decided we needed to have "the correct readings" to go with the songs, and that the songs needed to be"in the correct order". People were then pressed into doing readings from iPhones / tablets / little teeny weeny handbag (purse) bibles, and the musical flow fell apart. It was OK, but really didn't live up to the potential.
I said afterwards that if I'd known that we had to have the readings then I would have scripted them so they presented well, and would have worked with the "readers" to do them well.
Attempt #2: readings => narrations
A couple of years later my workplace "Christian group" started discussing their "annual Carols and mince pies presentation" and asked for ideas as to what we could do.
I suggested a stripped down version of what we'd done in the pub, and wrote four narrations to go with five carols. It was a tremendous success, the characters really entered into it with comedy regional accents and a lot of preparation, and we all formed a little choir for the songs.
Attempt #3: => narrating by candlelight (still some lessons to be learnt)
The next year, at a new church, I was asked to do the evening "carols by candle light" service which was a major community event for them, and so suggested this presentation. I worked really hard at getting people on board and wrote some more narrations, including having Elizabeth read Luke's story and St John's "Communion" end piece.
I also included modern festive songs at the beginning and end.
It went very well except for the following:
The minister insisted on doing a "look at me all you extroverts and stand up and shake hands" welcome thing at the beginning, and then hijacked the final narration to do a rambling unscripted gospel message, and had a speaker ALSO do a full preach gospel message.
The musicians were very reluctant to try modern styles (apparently only the organ can make things sound like Christmas. Odd, I thought it needed a brass band…) and didn't want to rehearse.
The AV for the words was all Edwardian gaudy Christmas cards, different image for every verse of every song, and was very distracting. (HINT: Pick a nice simple image and use that for everything)
What was good is that the narrators dressed up and we "hid" them with a spot light turned off during the songs, which flowed nicely without any interruptions.
Attempt #4: => reworking for cafe church and viral (well sort of) spread
Roll forward another year or two, and last Christmas my own (new) church agreed to do it. I directed it, we did the "communion" bit at the end, it was full cafe style with nice snacks and cosy tables, and it was really really good.
After discussing it on "the other FB worship leader's group" [believe it or not there are other worship leading Groups on Facebook outside Musicademy's!] while we were preparing it someone asked if they could do it, I gave permission, it went very well for them too.
Would you like Simon's narrations plus his orders of service?
You can download them here! Let us know how it goes.
If you are going to do this yourselves. Simon's top tips
Make the narrators as hammy and pantomime as possible
Make it all slick and flowing
Do the music the way your band do it on the other 51 Sunday's of the year
And (I can't stress this enough) DON'T LET CLERGY DO PRAYERS OR PREACHING. NOT THIS TIME.
NO NO NO.
Thanks so much to Simon for taking the time to share these. Let us know what you think!