Have you ever recommended Musicademy products to your friends?
Would you like to earn commission for you or your church on your recommendations?
Do you have a website that could carry banner ads or links to Musicademy with each sale earning you money?
We've been working on ways to spread the word about the Musicademy product range and one really effective approach is to use "Affiliate Marketing". This is where websites carry either banner ads or "text links" that link to the Musicademy website. Each link has a clever piece of tracking code which means that when someone has clicked from your website to ours and then buys a product (at any time up to 60 days after the initial click) then you earn 10% commission on every sale.
We have joined an affiliate marketing network called ShareResults to help us do this. They manage all the payments and host the banner ads and text links which you can select for your site. This  will enable organisations, churches and individuals with websites to earn money from sales of Musicademy products.
Banner ads and text links
We've created a wide variety of banner ads in different sizes to suit lots of different websites. There are banners for guitar, bass, keys, vocals, drums and also for more generic worship training. "Text links" are a little more unusual but are increasingly popular on websites. We provide a word or phrase that includes a hypertext link to our products. So for instance, we might have the words "worship guitar" with a text link to our worship guitar page https://www.musicademy.com/info/worship-guitar/
You simply incorporate the text link into a blog post about worship guitar. Or you could even use some of the content from the Musicademy blog and drop in some of our affiliate text links. We want to make it easy for you so please let us know if you need any help.
Here are some examples of the banner ads:
And here are some words that become text links:
Vocals warm-up exercises
Worship bass
Harmony skills
Backing vocals
Play by ear
Worship backing tracks
Beginning worship guitar
Worship band
Church worship teams
And if you have a good mailing list, there are opportunities for email marketing as well as Pay Per Click specialists.
Interested?
It's really easy to sign up and get going. Click through to the Musicademy page at ShareResults and hit JOIN NOW. You'll then need to register. Once your application is approved you then get access to the Musicademy/ShareResults platform where you select your banners and text links. We've written a detailed article on this process here.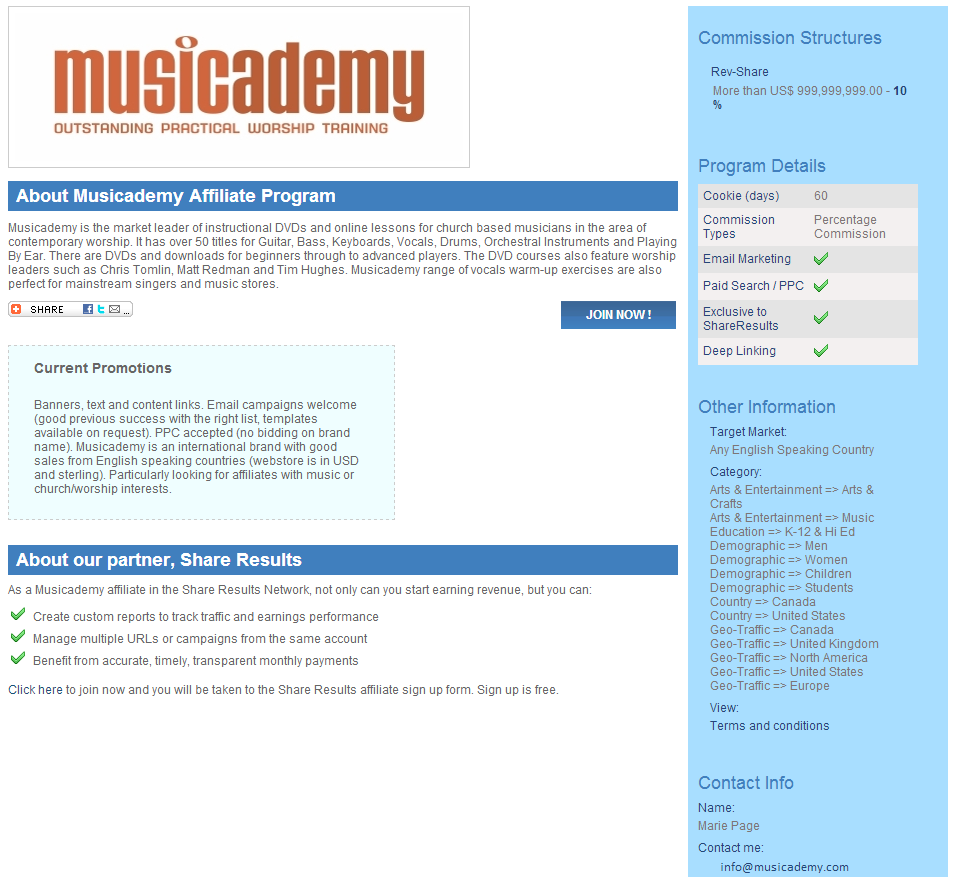 Start making money now!
Every time someone clicks on the banner or link and goes through to the Musicademy website to buy something you will receive a 10% commission on the sale. Given that most of our DVDs retail at around the $80/£60 mark, it doesn't take many sales for you to earn some good income. So if you have a website or blog that you'd like to monetise, or a church or organisational website that you'd like to fundraise with, here is your chance.
We've designed a simple step-by-step picture guide giving new affiliates all the information they need to get going.