For churches not needing the full functionality of our MultiTrack Backing Track Player, we have a great low-tech backing track option which we call "Split Track Video Downloads". These even include on-screen words that change in time to the music.
You can see a sample in the video clip below:
Easy-to-use, low cost backing tracks for churches without musicians
SplitTrack Video Downloads are individual backing tracks to worship songs featuring onscreen words and "split track" vocals. This means that you can choose the volume level of the vocal from zero to full via your left/right audio balance so that you can hear either no vocals, a little vocals or a full vocal lead.
The split track vocals mean that less confident singers (or indeed the rest of the band) can have the professional vocal line in their foldback so that they can hear where to come in and pitch more accurately. You can also adjust it so that your congregation hear the vocals as well.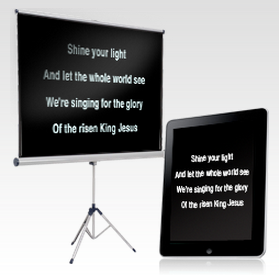 There are on-screen words for each song which come up in time with the music.
Where the downloads differ from our DVD product is that with the downloads you can easily create your own play lists using software such as ITunes. Of course if you want more control over the levels of different instruments in the mix, or to change the key and tempo, you will need our MultiTrack Player.
Great for churches without a band or for small group worship times. Suitable for Mac, PC, IPad, IPod or Smart Phone.
Great discounts when buying in bulk
We've put together some fantastic discounts when you buy split tracks in blocks of 10, 20, 50 and 70 songs meaning that you can pay as little as $2 (or £1.32) per song. You can see the discounts in  the graphics below. Note that North American customers will see prices in US dollars and customers elsewhere in the world will see prices in UK Pounds Sterling.
Buy now
Click through to the Worship Backing Band website to view and buy the video split tracks.  Simply put the correct number of songs in the shopping cart and the discount will be automatically applied at the checkout.