Thanks so much for taking part in our recent communications survey. We've done a lot of analysis on the results which we share with you below.
The Findings
We had over 300 people take part in the survey which was split into questions for people who access our content via the newsletter and website vs people that tend to prefer the Facebook Page. We are going to focus on the website/newsletter/blog content for this report as findings were very similar for both platforms.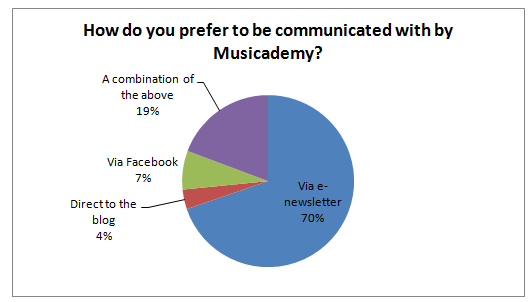 Whilst it is clear that the newsletter is very popular, Facebook remains an important channel for us, and tends to be the place where we post more lighthearted content that would perhaps be somewhat out of place on the website/newsletter which is designed to be more resource driven. Of course some respondents don't have Facebook accounts and voiced concerns about "missing out" on content. We would like to reassure you that all the important updates are also shared on the newsletter and website. The difference with Facebook is that:
a) You can get updates every day straight to your timeline – that form of communication is preferred by a number of our subscribers
b) There is a lot more "engagement" with the content on Facebook with far more people commenting on the articles there than on the blog
c) Facebook is arguably a more suitable medium for the funny photos, quotes about worship and links we find elsewhere that we like to share with you
d) Facebook works well for us as a place for new people to find out about Musicademy – people that wouldn't find us elsewhere online
If you want to check out our Facebook page, please click through. You can see all the content there without having to subscribe to a Facebook account.
Frequency
66% of respondents say that they access our content at least once a week:
And the vast majority of you think that the frequency of our articles and newsletters is about right:
We asked you to rank why you come to the Musicademy website. The most popular answer was "to be educated or informed" followed by "to be inspired". We try to position ourselves as specialist educators rather than have our content celebrity-driven which is the case in many worship related website. This survey response would confirm our positioning. We'd love to know what you think though – please comment below.
We were pleased to see that most of you rank the relevancy and helpfulness of our content highly:
And 91% consider us a trusted source and authority on worship musicianship:
Your views on type of content
We categorised our articles and posts (content) in a number of ways and asked you to rank them. The following graphics show the results. Firstly here is the content you "say" you would prefer to see:
We compared this to the internal data we have on content that you actually clicked on. You'll see that funny content gets a lot more clicks and seems to be far more popular than you would think:
Similarly here are the survey results vs click data from a different categorisation of content:
We asked what kind of content you would like to see more or less of on the website:
We then drilled down into the content that we have categorised as "worship" and asked what you wanted to see more or less of:
We'll take all this on board when planning new content.
Survey participants – demographics
301 participants completed the survey. The respondents were broadly representative of Musicademy's customer base in terms of country of origin.
Respondents play a wide variety of instruments and many are also worship leaders and singers:
The following graphic shows the spread of instruments and level of proficiency. This is a helpful guide for where Musicademy should pitch future educational content.
A broad spread of instruments were represented with the popularity of these reflecting in the answers for preference of content type. This question allowed multiple responses and many worship leaders and vocalists were also instrumentalists. 301 participants gave 1,153 responses showing an average of 3.8 instrument types per respondent. This alone suggests that Musicademy is correct in presenting such a wide variety of instrument content.
We were deligted to see how many of you recommended Musicademy to friends. Other data showed a very high rate of sharing pieces of content too.
The open-ended questions:
We asked a number of questions with free-form responses. These gave us valuable insight into your views and opinions. Below are some graphics that show the words and phrases that came up most often in these responses:
It's clear that you like the free content! We were pleased to see that people generally feel that with the free content and useful articles, we do "earn" the right to sometimes talk about our own products and that you recognise that without making some sales we would not be able to bring you the free content that we do. You also had some very positive comments on the DVDs and online lessons.
We were also pleased to see that you recognise that we serve churches from a very broad theological spectrum. We try to do that without taking any sides on theology and by presenting a variety of viewpoints. Obviously sometimes you disagree with certain articles (and sometimes we don't agree wholeheartedly with all our guest writers!) but most people seem to be able to sift and weigh content for themselves based on their own experiences, church backgrounds and theological perspectives.
We asked how we could better serve you and your worship team. Overwhelming numbers gave responses like "Keep up the good work!" but there were also some suggestions for improvements. Lots of you seemed to have trouble locating past articles. So now you can find articles in different categories by clicking on the Blog and looking at the index on the right hand side of the page. There you will find what we call the "Free Resources Index". This is basically a collection of all our previous newsletter/blog articles collected into categories such as guitar, bass, worship etc etc.
Based on your responses though we'll be looking at ways of better highlighting where to find previous content.
Another suggestion that came up a lot was the idea of having a forum where you can post questions to be answered either by other Musicademy subscribers or by our experts. We are looking into how to do that but in the meantime feel free to either post questions on our Facebook wall or email us directly. We can then turn the questions (and our answers) into articles.
One criticism was that some people have difficulty navigating the website or accessing their account in the store. Some people have also had problems buying products. Like any online company we have our fair share of technical gremlins, and we have been upgrading the website in recent months which has resulted in some difficulties for customers. We are working to improve this and please remember that you can email us at any time to report a problem or to ask for help finding an article or buying a product. We normally respond super quickly, and almost always within 24 hours.
The Britishness!
Along with lots of popular worship leaders and song writers (Tim Hughes, Matt Redman, Martin Smith, Graham Kendrick, Stuart Townend etc etc) Musicademy is based in the UK. But a sizable majority of our subscribers are from North America (we have so many customers in the US that we actually manufacture our DVDs in Texas). We welcome you and thanks so much for reading. We do try really hard to think about the context of where you are worshipping, and many of our guest bloggers are American and Canadian. But we do have English accents and we do have a British sense of humour (not to mention British spelling!). One advantage of our British bent is that we are very experienced with working with small church set-ups.
We're sorry that we can't do more live events close to where you live. We were in Canada for a worship conference recently, and we're really open to travelling to American worship conferences if you would like to invite us! When we do teach in a live training situation we are now trying to video our seminars and make them available for you all to view on the website.
The humour!
OK. This is the area where we perhaps come unstuck. As you'll see from the data we've presented above, the funny content we present (and there is more on Facebook than the website) is hugely popular in that many many people click on it, comment, "like" and share it, however when asked what you think of the funny content, you are not quite so overwhelmingly positive. Whilst many of you reckon we get the balance right, one or two responders found humour a little flippant on a website that is devoted to improving worship musicianship. We appreciate for some, that our somewhat English and satirical approach can come across as cynical.  We're sorry if sometimes you are offended. Feel free to ignore those articles but please do try to see the cultural side of this too. In English humour satire is often used as a way of highlighting things we all do without thinking and without pointing the finger, really so we can look inside of ourselves and smile at our unconscious contradictions.  We are also really happy for you to comment on our articles – we don't censor comments unless they are defamatory. Do let us know what you think.
Over to you
So, if you've got to the end of this article. Well done. It's a lot of information. What do you think? Anything we've not covered that you would like to raise? Please comment below.
In response to your requests – the detailed click data
Kent (below) commented on the dwell time of the different types of content. Below you will see the more detailed data which includes the average time spent on the page. I've categorised the posts using two alternative typologies which I have called "Physical" type and "Generic" type.
The newsletter appears to be unpopular but these are simply the archive posts of the newsletter rather than the actual clicks we receive when we send that out.