Lost in Wonder (You Chose the Cross) – The story behind the song
Prior to our trip to Kuala Lumpar, Malaysia in September 2002, to be involved in the Soul Survivor conference, Mike Pilavachi and I had decided to extend our time in Malaysia to include a three day break in Penang, an island situated about 4 hours drive North of Kuala Lumpar. The main reason for doing this was for me to spend time writing songs for my forthcoming album and for Mike to continue work on his new book. I would however be lying if I said that the sunshine and beach were not also very appealing reasons for going!
The first morning at the hotel, whilst Mike swam in the pool (slacker!), I did my usual thing of sitting down with my guitar and wondering where on earth to start when writing a new song. After sitting quietly for a while and being very tempted to join Mike, I decided instead to flick through my lyrics book to see if I could get any inspiration. I find keeping a lyrics book is a great way to combat writer's block. Basically just write down anything that you find striking or inspiring. A line from a film, a dream, a song whatever…Even if it seems unimportant, you never know when it might come in handy.
After a few seconds, I stumbled across this line, which I had written down some months before: 'You chose the cross with every breath, the perfect life, the perfect death'. To be honest, I can't even remember how that line came to me. I think it was in a worship time whilst I was in the congregation, but it didn't seem particularly fresh – just something in my mind that struck me as interesting so I wrote it down.
As I started reading over that line and thinking on it, I just started singing it out on my guitar. I didn't really have a great revelation for the melody. I guess it just flowed out as I played it over and over. The chords I happened to be playing at the time seemed to fit with what I was singing. It also seemed a nice idea to repeat the line 'You chose the cross', which obviously began to determine what sort of song it was going to be, but also triggered my thoughts to Max Lucado's book called 'He Chose the Nails'. Sometimes, that's the way it works. A line or a phrase leads you further to other sources of inspiration and so on. This was a helpful resource to stimulate ideas and a fresh outlook on an old theme.
The second part of the first verse was also inspired by a line that I had written down from an old hymn; "For us you wore a crown of thorns; A crown of life for us securing". I really liked the double use of the word crown and the imagery of his crown of thorns being symbolic of the crown of life that his death and resurrection would purchase for us.
Another line I had written in my writing book (in fact on the same page) was 'Lost in wonder, love and praise'. I had heard this phrase used years ago at the church I grew up in and I think it might even have been in an old song, but I thought it might be a cool theme for a celebration song at some point, so I had jotted it down. Again, as I began to worship using this phrase as a response to what Jesus has done through the cross, I just started singing the complete chorus melody progression. To be honest 90% of the chorus just flowed out in one go and just took a bit of time to finalise the two last lyrical statements; 'I am forgiven', 'I am restored'.
That was about as far as I got in that sitting. The pool was way too tempting! The only hard thing was making sure I remembered the melody until I got back to England as I didn't have any way of recording it with me!
When I got home and assessed what I had so far it became clear that although I had a good starting framework, the song was far from being complete. I have tried to learn, that this is when the hard work begins. The inspiration is over and the perspiration starts. The temptation can be to stop crafting the song too early and settle for a good song when you could be onto a great song! Frustratingly, I knew I needed another verse and a pre-chorus that would really set the chorus up. Without a form of pre chorus, it felt like there was not enough tension building into the chorus.
In the hope of getting some further inspiration for a second verse and pre chorus, I started reading the gospel accounts once again of the time running up to Jesus' death and resurrection. The revelation of Jesus actually choosing the cross and the fact that he could have decided against it, given his fully human limitations, led me specifically to his time of emotional agony in the garden of Gethsemane.
Matthew 26:38

'Then he said to them, "My soul is overwhelmed with sorrow to the point of death. Stay here and keep watch with me".'

Luke's account even describes Jesus as sweating drops of blood in his terrible anguish. (Luke 22:44)

Yet in the midst of h

is overwhelming pain, Jesus' heart was to do the will of the Father who had sent him.
Matthew 26:39

'Going a little further, he fell with his face to the ground and prayed, "My Father, if it is possible, may this cup be taken from me. Yet not my will, but as you will."

What amazing obedience! Even to death on a cross!
As I pondered on these verses, I really felt like I wanted to tell this amazing part of the passion story as part of the song. Hence the pre chorus':
"And though your soul was overwhelmed with pain, obedient to death you overcame"; "The sorrow that surrounded you was mine, yet not my will but yours be done you cried".
Honestly, I was pretty shocked when these lines flowed out. They felt like real gifts from God that expressed exactly what I wanted to say but staying true to the text using half rhyme.
I also really wanted to have a reference in the song not only to Jesus' death, but also to his glorious and victorious resurrection from the dead. After playing with a few ideas for the direction of the second verse, this seemed like a good direction for the song to go in.
Other ideas that I had were lines such as:
You drank the cup of suffering,

Your Father's will you chose for me

You chose the cross
But in the end I settled on what is now the second verse.
Finally, after using the song a few times in worship, I decided to repeat the line at the end of the chorus, 'Because of Jesus' and that turned into quite a nice spontaneous refrain for the song which I now use most times when I'm leading with this song:
Because of Jesus

Because of Jesus

I am forgiven

I am restored
Lost in Wonder is available as a Worship Backing Band MultiTrack  and a SplitTrack. Click through to either of these links to listen to a 30 second sample. The MultiTrack is our FREE DOWNLOAD for October.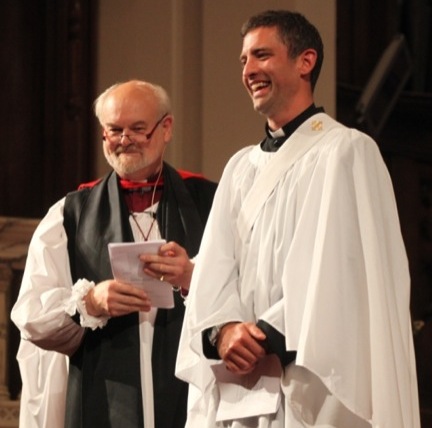 Martyn Layzell grew up at St Andrews Chorleywood with Matt Redman, Mike Pilavachi and the rest of the team that planted the Soul Survivor Church and movement. He was at Soul Survivor from its inception in 1993 through 2004 as one of the worship leaders and assistant pastor moving to be the worship pastor at St Aldates, Oxford from 2004-2008 before studying theology at Oxford in order to get ordained in the Church of England. Martyn is currently working at Holy Trinity Brompton, London (home of the Alpha Course) as curate.

He is married to Emily with four sons – Jack, Harry, Jesse and Theo 10,8,6 and 3.