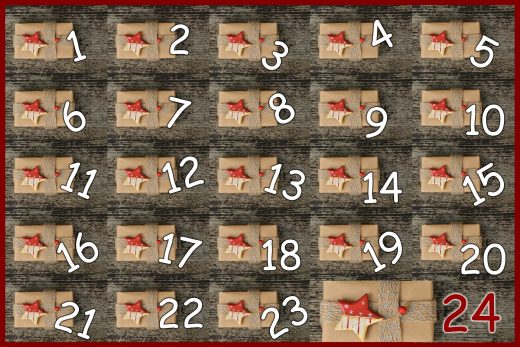 Advent is a time to take spiritual inventory. A time to look at the bad spiritual habits that we have fallen into and take steps to break them. Advent helps us to seek to be Christ-like.
What a wonderful opportunity to examine ourselves – to take stock and confess those things that lead us away from the manger. And to praise Him for bringing forgiveness and healing.
Jeremiah 24:7 says: I will give them a heart to know me, that I am the Lord. They will be my people, and I will be their God, for they will return to me with all their heart.
I have a daughter who is severely ADD. We would start out the school year great. But at about the 1st 9 weeks things would start to go downhill. The novelty would wear off, she would start missing assignments, and the effort she put in would become less and less as time went on.
I can easily compare that to my spiritual life. God will do a work in your life and you're on top of the mountain. As time passes though you start putting in less and less effort to stay close to God. You get comfortable with doing less. You make excuses, it's too hard, I don't have time, what's the point when everyone else around me isn't doing anything. Pretty soon you don't even bother making excuses. You just don't pray as much, you don't examine yourself, you don't even try to adjust your thoughts or your behavior.
The best thing that ever happened to my daughter was the year she was in year-round school. There were still the same number of days in the school year. They were just structured differently. There were more breaks, you were off 6 weeks in the summer instead of 12. The thing about ADD kids is that they get overwhelmed, they lose interest. Especially if there isn't some type of instant gratification. They benefit from frequent start overs.
I think in our spiritual lives, that's what we need. Start overs.
Times set aside where we are deliberate in our effort to reconnect with God.
Paul says in Ephesians 4:23 "Be renewed in the spirit of your mind";
Our minds have a "spirit." A mindset. An attitude. A learned way of thinking. The "spirit of our mind" is formed by not only what our mind has experienced but also by how we let those experiences effect our "way of thinking" We can let those experiences create spiritual laziness, bitterness, judgement, resentfulness, apathy, anger and all sorts of negative "mindsets" or there is the path of – I love this phrase – spontaneous Godliness — spontaneous Godliness. where we live most of our lives acting like Jesus without conscious reflection on the hundreds of things we say and do all day.
The goal is transformation. Transformation from spontaneous humanness to spontaneous Godliness.
You can avoid all kinds of worldly behaviors and not be transformed. Transformation comes from genuine Renewal of the spirit of your mind which results in a renewal of the spirit of your heart. And by allowing the Holy Spirit to help us on this journey we can achieve the fruits of the spirit found in Galatians 5:22-23 22 But the fruit of the Spirit is love, joy, peace, forbearance, kindness, goodness, faithfulness, 23 gentleness and self-control. Against such things there is no law.
It takes deliberate effort on our part. Reading and studying scripture, spending time in prayer, practicing renewed thinking. Acting Christ like, even when you don't feel like it. Ever hear the phrase, fake it till you make it? Advent can start you down that path. Plus you have the added benefit of starting that journey with your church family. Where you can gain strength and encouragement.
Ezekiel 36:26 says: 26 I will give you a new heart and put a new spirit in you; I will remove from you your heart of stone and give you a heart of flesh.
Advent teaches us patience, while also reminding us that God always keeps his promises. Christ himself spent 30 years on Earth before beginning his ministry. In that time, he memorized the scriptures and studied God's word, to prepare himself.
We have the opportunity to imagine the long-awaited coming of the Messiah, who was promised thousands of years before his arrival in Bethlehem. As we reflect on the fulfillment of God's promise of the birth of the Messiah. We know that we can count on the fulfillment of a second coming.
Confidence in the second coming of Christ inspires missions, enables Christian fellowship and mutual encouragement, gives hope to those who have lost loved ones and equips us for endurance of anything that comes our way.
The world is full of pain, the innocent suffer, and families are broken apart. Addiction of all kinds tear lives apart, people are hungry and homeless, children are left orphaned. It seems sometimes that the world has lost any semblance of morality, and there are no ready explanations, and disillusionment readily sets in.
But
Isaiah 40:31 says But those who hope in the Lord will renew their strength. They will soar on wings like eagles; they will run and not grow weary, they will walk and not be faint.
And we have this promise from God found in Revelation 21: 3-4 And I heard a great voice out of heaven saying, Behold, the tabernacle of God is with men, and he will dwell with them, and they shall be his people, and God himself shall be with them, and be their God. And God shall wipe away all tears from their eyes; and there shall be no more death, neither sorrow, nor crying, neither shall there be any more pain: for the former things are passed away. And God keeps his promises!
Unlike those awaiting the birth of our Messiah, we don't have to wait to be in his presence. We won't experience 400 years of silence from our God. Do you want to spend your time waiting in his presence or choosing to be locked away from him? Because it is your choice. I challenge you to take this advent journey as an opportunity to start over. To find your way to the manger, to the cross and to eternity with him.
Psalm 63[a] 1 You, God, are my God, earnestly I seek you; I thirst for you, my whole being longs for you, in a dry and parched land where there is no water.
Allow yourself to feel that longing and to earnestly seek him. Find him and let others see him in you so that they may seek him too.
---
Evron Sampson has served in church leadership for the past 18 years. Serving as vocalist and on keys in the same praise band for all of those years. She transitioned to worship leader out of necessity sometime in 2012. She has also led children's and youth ministry, adult teaching, volunteers, outreach ministry, worship planning and congregational care.
Among other things you might find her creating websites, creating events, cooking or scrubbing toilets.
She has survived a church split, a church plant, a merger of a high traditional church and casual contemporary church, and a re-launch. Since 2008 she has worked as the administrator of Rock Hill church in Hot Springs, Ar. She and her husband are also therapeutic foster parents. They have 3 adopted girls and currently foster 2 boys ages 4 and 15.