A few years ago we were asked to suggest some songs for a funeral. What followed was a really interesting "crowd sourced" list.
Over the intervening years, that article has consistently been one of the most popular on the website and has attracted comments such as "This has been the biggest help of all looking through 4 pages of trying to find the best ideas for funeral music".
We've been asked the same question again, this time for a memorial service where there will be many people of different faiths so what follows is a compilation of hymns and Christian songs as well as so-called "secular" songs that have appropriate lyrics. I may have miscategorised the odd one as I've made some assumptions on artists I wasn't familiar with. Please feel free to add your own ideas into the comments.
The lyrics of songs become so much more poignant when remembering the life of a loved one. Many of these songs you will have sung before but the words will take on new meaning when you consider them for a service of remembrance.
We have an ever expanding repertoire of backing tracks (with on-screen lyrics if you require them) over at Worship Backing Band if you are in need of accompaniment.
Contemporary Christian songs for a funeral
I Can Only Imagine – Bert Millard/Mercy Me (backing track)
Blessed Be Your Name – Matt and Beth Redman (backing track)
There is a Day – Nathan Fellingham
You're Beautiful – Phil Wickham
I Will Rise – Chris Tomlin (apparently written for his grandfather) (backing track)
Welcome Home – Michael W Smith
In Christ Alone – Stuart Townend (backing track)
Go Rest High on that Mountain – Vince Gill
How Can I Keep from Singing – Chris Tomlin (backing track)
How Deep The Father's Love For Us (backing track)
Beautiful Things – Gungor
Every Little Thing – Delirious
There Will Come A Day – Faith Hill
There Will Be a Day – Jeremy Camp
There Is A Hello After Goodbye
Your Hands – JJ Keller
Soon – Brooke Fraser
Never Let Me Go – Ben Cantelon
When Silence Falls/When the Tears Fall – Tim Hughes
When All Around is Fading (Whole World In His Hands) – Tim Hughes (backing track)
Beauty of Your Peace – Tim Hughes
Homesick – Mercy Me
Healing Leaves – Ulf Nilson
Endless Hallelujah – Matt Redman
You Hold Me Now – Hillsong (backing track)
You Never Let Go – Matt Redman (backing track)
Keep Me In Your Heart – Warren Zevon
Blessings – Laura Story
10,000 reasons – Matt Redman
Do Not Stand at My Grave and Weep (also a poem)
Footprints in the Sand
It is Not Death to Die – Bob Kauflin
Wish You Were Here – Wave City
Various Iona songs – John Bell
Hear You Me – Jimmy Eat World
When It's All Been Said and Done – Robin Mark
Beneath the Waters (I Will Rise) – Hillsong
Amazing Grace (My Chains Are Gone) – Chris Tomlin (backing track)
Friends – Michael W Smith
Song Of The Grieving – Matt Rexford
Remember Me – Matt Redman
Jesus Draw Me Ever Nearer – Keith Getty & Margaret Becker
Soon and Very Soon – Andrae Crouch
Jesus Died My Soul to Save – Pocket Full of Rocks
Your Faithfulness – Brian Doerksen
What a Friend I've Found – Delirious
Be Ye Glad– Glad
How You Live – Point of Grace
There is a Hope – Stuart Townend & Mark Edwards
Loved Before the Dawn of Time (Salvation Song) – Stuart Townend
I Will Lift My Eyes – Bebo Norman
Faithful One – Brian Doerksen (backing track)
There is a Redeemer
God Sent His Son
How Great Thou Art (backing track)
How He Loves – John Mark McMillan (backing track)
O to See the Dawn – Stuart Townend
Traditional hymns for a funeral
Beyond the Sunset
Great is Thy Faithfulness (backing track)
When Peace Like a River (It is Well)
I Know That My Redeemer Liveth from The Messiah (Handel)
The Old Rugged Cross
When the Trumpet of the Lord Shall Sound
There is a Hope – Stuart Townend
How Great Thou Art – (backing track)
Abide With Me
Amazing Grace (backing track)
Battle Hymn
Come, Ye Disconsolate
Does Jesus Care?
God Will Take Care of You
Great is Thy Faithfulness (backing track)
Love Divine, All Loves Excelling
My Faith Looks Up to Thee
My Jesus, I Love Thee
My Saviour First of All
Nearer My God to Thee
O That Will Be Glory
Precious Lord
Rock of Ages
Safe in the Arms of Jesus
Saved By Grace
Still, Still with Thee
Sweet By and By
Tell It to Jesus
The Sands of Time Are Sinking
The Lord's My Shepherd
What a Friend We Have in Jesus
When We See Christ
When I survey the Wondrous Cross
Thou Didst Leave Thy Throne and Thy Kingly Crown
Still, Still with Thee, When Purple Morning Breaketh
Morning Has Broken
"Secular" songs for a funeral
Face to Face – Gary Barlow
Anyway – Martina McBride
Song for the asking  – Simon & Garfunkel
Somewhere Over the Rainbow
The Moon – Kendall Payne
This is just So Beautiful – Jenny & Tyler (actually a Christian song but suitable for a mixed audience)
Shed a Little Light, Oh Lord (So that we can see) – James Taylor
Along the Road – Dan Fogelberg
Here Comes the Sun
Jealous of the Angels – Jenn Bostic
I Will Find You Again – The Perrys
For We May Never Know– The Winans
It's So Hard To Say Goodbye To Yesterday – Boys II Men
I Will Remember You-Sarah McLachlan
One More Day-Diamond Rio
Tears In Heaven-Eric Clapton
Keep Holding On – Avril Lavigne
Bridge Over Troubled Water– Simon and Garfunkel just to name a few
I Did It My Way – Frank Sinatra
You Raise Me Up – Westlife
Wind Beneath My Wings (from the film Beaches)
Wish You Were Here-Mark Harris
Angels – Robbie Williams
When I Get Where I'm Going-Brad Paisley and Dolly Parton
Compilation albums for funerals
Songs for a funeral
Purcell – funeral sentences for the death of Queen Mary
Piano music for a funeral
Funeral music compilation
John Taverner – Ikon of Light
26 instrumentals for funerals
Funeral hymns organ arrangements
Music for funerals and memorial services
Funeral songs – instrumentals
English Royal Funeral Music
Soothing songs for a peaceful funeral
Cathedral organ: Music for Funerals
Classical tribute music for funerals
Piano music for wakes and funerals
Most popular religious hymns
Popular funeral songs
Funeral classics
Hayden
Something to help with, and explain, the grieving process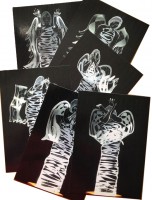 We came across these "Angel Cards" that many bereaved people, counsellors and others supporting the bereaved have found so incredibly helpful that we offered to sell the cards on behalf of the artist (Musicademy doesn't take any commission on these sales).
You get a neat little pack containing six postcards of beautiful perspex angel sculptures, each depicting a stage of bereavement.
Each card has a short but helpful description on the back about the stage shown and they are: 'Denial', 'Anger', 'Bargaining', 'Depression', 'Acceptance' & 'Peace'.
The story behind the sculptures depicted on the cards "The Six Angels of Mercy" is told here.
Looking for songs for other occasions?
We have also created a comprehensive list of songs for weddings.