Augustine told us that the "law of prayer is the law of belief."  In other words, what touches the heart is what tends to be remembered and treasured. In our day we could easily say that the law of song is the law of belief. I have many volumes of systematic theology on my shelves. Few of those will ever be read by the average believer, and not one line in any of those books will be remembered more than the lyrics of beloved hymns.  If music is a vital means of imparting spiritual truth to the hearts of God's people, then it's important we present as full a spectrum of theology as possible. That includes the reality of death.
"…it is appointed for man to die once, and after that comes judgment" – Hebrews 9:27
We all face the inevitability of it. Sometimes we're reminded by the sudden and shocking departure of a loved one, or their slow descent into the shadows of death through disease. Sometimes the descent is our own. What about our young men and women in the military, or our police and rescue squads that place themselves in harms way? What about their families who face the threat with them?  How do we prepare our people to view death through the prism of hope and not despair? In part, we sing about it.
Songs about death don't fall into the category of "happy-clappy," and so they are often avoided. But the Scriptures don't avoid it and neither should we. We must be preparing people to die, not simply react to death when it comes. We sing songs about facing trials and difficulties with faith. Why? Simply as a reaction? No! We sing those worship songs because they prepare the heart and fortify faith for the trials we surely will face. I'm grateful for two "re-tuned" hymns I have found genuinely full of faith in the face of death. These hymns I have used for funerals but, I have also used them in our worship service.They are not maudlin or cheesy, but instead rich in metaphor and truth. They also bring the hope we have in the face of death straight to our hearts and minds. Songs of hope help us live in the power of faith in future grace.
I'm going to share the lyrics to both songs here along with the links to where the sheet music can be obtained. Are there other songs about death you could suggest that might provide the same hope and truth?
It is Not Death to Die – Bob Kauflin
Original Words by Henri Malan (1787-1864), Translated by George Bethune (1847), Music, Chorus, and Alternate Words by Bob Kauflin. Sovereign Grace Music
It is not death to die
To leave this weary road
And join the saints who dwell on high
Who've found their home with God
It is not death to close
The eyes long dimmed by tears
And wake in joy before Your throne
Delivered from our fears
O Jesus, conquering the grave
Your precious blood has power to save
Those who trust in You
Will in Your mercy find
That it is not death to die
It is not death to fling
Aside this earthly dust
And rise with strong and noble wing
To live among the just
It is not death to hear
The key unlock the door
That sets us free from mortal years
To praise You evermore
© 2008 Integrity's Praise! Music/Sovereign Grace Praise (BMI)
Lyrics, chord charts, piano and string scores.
Good Night by Matthew Smith
I journey forth rejoicing
From this dark vale of tears
To heavenly joy and freedom
From earthly bonds and fears
Where Christ our Lord shall gather
All His redeemed again,
His kingdom to inherit–
Goodnight, goodnight till then
Why thus so sadly weeping
Beloved ones of my heart?
The Lord is good and gracious
Though now He bids us part
Oft have we met in gladness
And we shall meet again
All sorrow left behind us–
Goodnight, goodnight till then
I go to see His glory
Whom we have loved below
I go, the blessed angels
The holy saints to know.
Our lovely ones departed
I go to find again
And wait for you to join us–
Goodnight, goodnight till then
I hear the Savior calling–
The joyful hour has come
The angel-guards are ready
To guide me to our home
Where Christ our Lord shall gather
All His redeemed again,
His kingdom to inherit–
Goodnight, goodnight till then
from Watch The Rising Day, released 17 August 2010
©2010 Detuned Radio Music
Written by Matthew S. Smith
Based in part on a hymn text by an unknown German writer, translated by Jane Borthwick
Find sheet music for Matthew Smith's songs here.
Jeff Ling is a worship leader and pastor of Clear River Community Church in Northern Virginia. Follow him on Twitter at @jeffling. This guest post also appears on Jeff's blog
Other posts you might like
Suitable songs for a funeral or memorial service
Something to help with, and explain, the grieving process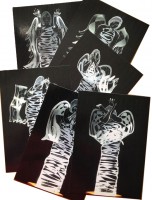 We came across these "Angel Cards" that many bereaved people, counsellors and others supporting the bereaved have found so incredibly helpful that we offered to sell the cards on behalf of the artist (Musicademy doesn't take any commission on these sales).
You get a neat little pack containing six postcards of beautiful perspex angel sculptures, each depicting a stage of bereavement.
Each card has a short but helpful description on the back about the stage shown and they are: 'Denial', 'Anger', 'Bargaining', 'Depression', 'Acceptance' & 'Peace'.
The story behind the sculptures depicted on the cards "The Six Angels of Mercy" is told here.