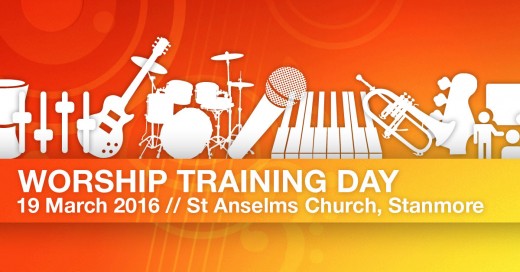 We are delighted to announce a new Worship Training Day at St Anselms Church in Stanmore Middlesex. Stanmore is that great mix of being easy to get to by car (free parking and not far from the M1) but also on multiple London tube and train stations – Bakerloo, Jubilee and Met Line).
We know that lots of our delegates have come to previous training days so we have put together a programme with plenty of new content for you to enjoy.
The day features two brand new Essential Skills for Worship Teams seminars, guitar, bass and keys masterclasses plus a reworked session on "How to make those 'big' stadium worship songs usable in small local churches". In addition we have Philly Lopez from HTB/Worship Central running a vocals stream (with plenty of new material including an exciting new Gospel masterclass – if you want some inspiration of how these sessions work, watch these video clips) and a stream for your PA/Tech team with Pat Smith from SFL Group.
Buy tickets here and get our Early Bird discount.
But is it really worth coming to?
Yes! These days just keep getting better and better. We were particularly encouraged by comments made after our recent Woking event. These promote the event far better than anything we could say!
I'm always wary about training sessions provided by companies that sell training materials as you can just end up paying to sit through a sales pitch. But this wasn't the case, the day was genuinely useful. We learned a lot of useful stuff without buying anything!
Plenty of really practical info that we can put into practice immediately
Interactive and encouraging
Personally I prefer a practical seminar so I can physically see/hear what is being talking about so I really enjoyed Tim's keyboard sessions
A relaxed fun learning environment with plenty of opportunity to ask questions.
I learnt that it's good to get out of your own situation sometimes and have input from others even though I've been involved in church music groups for many years
Liked the simply put and easy to follow tips for guitar and sound mixing. Would definitely go to another one.
Very well organised, great hospitality from the host church. Content was very informative and practical.
This was the first worship training day I've been to & it was good to discuss/cover issues I don't really think about when I'm doing worship. There are definitely things I will change
The full programme is below (click on the images to see a larger version): Read More »